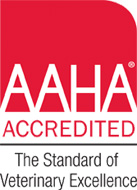 Our History at Northway Animal Hospital
Northway Animal Hospital was opened in 1967 by Dr. Charles Horton on Cook Avenue across from "The Mall". After working for Dr. Horton in high school, graduating veterinary school and practicing in Huntsville for 6 years, Dr. Rip Patton took over Northway in 1994 and since then has enjoyed caring for family pets in the area. Since 1989 Northway has been accredited by the American Animal Hospital Association, an honor held by only 15% of veterinary hospitals in the country.
"We will work together in a professional manner to serve our clients"
Pet Health Library
Northway Animal Hospital is pleased is to provide a library of professionally written articles updated by practice experts and reviewed by practitioners to bring you the most up-to-date pet health information.
What To Expect
When you arrive we will do our best to make sure you are brought into an examination room as soon as we have one available. Our goal is to make sure all of our patients are seen on time. See you soon!
Pet Health Resources
We are committed to providing you with the latest in pet health information. This information is for educational purposes only to help you understand your pet's healthcare needs. We have alot of resources available.